English
Last Update:2012-2-28
The President's greeting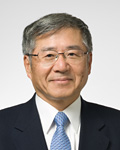 The Japanese Society of Environmental Infections (JSEI) was established in 1986 with the aim of "developing of progress for investigating environmental infection" and it is now becoming a very large with more than 7.300 members. Despite of JSEI doesn't offer any certificate for individual members, we are welcoming over 500 new comers in each year, which is still increasing. More than 6.000 people are joining our annual meeting held every February, which is now one of the largest scale infection prevention and control meeting in the world. The reason why so many people are joining this academic conference is because this Society is investigating infections not only in the hospital but also in various of social environments in a different kinds of medical facilities in the large area such as clinics, care facilities, for the chronically ill, and other healthcare associated medical offices.
Actually, the word of "environmental infections" is not familiar to healthcare providers like us. However, as we aware, activities for infection prevention and control are so important in temporary clinics and emergency shelters after the Great East Japan Earthquake which happened last year. In these days it was acknowledged that anti-infection activities in all the areas are as important as in the hospital. In Europe and the United States, they changed the term they use from nosocomial infection to healthcare-associated infection. I truly admired Professor Yasushi Ueda, the first President of our Society, as he really had the foresight that environmental infection is really important for control and prevent the various infections.
The biggest reason why this Society has kept developing is not only the medical doctors but also various kinds of other healthcare providers such as nurses, pharmacists, clinical laboratory technologists, and people from medical processors or employees of medical device companies are joining us as individual members. Furthermore among the doctors and nurses, not only infection specialist in the specific areas but in the wide medical areas such as surgical department, urology department, department of obstetrics and gynecology or operation department who are considering of infection prevention and control activities seriously are joining our Society. In order to provide safe and prompt high level medical care which is expected by our Society, we must work together to establish a cross sectional medical team in the various of medical areas in the hospital. We can never solve the various problems of infection control and prevention without a team effort from the various sections. These are the reason why the JSEI is increasing members and being more active and now keep greatly developing. I believe this society will be expecting more and more in the infection prevention and control area not only in this country nation-widely but also internationally.

The President of JSEI (2010-2014)
Toshiro Konishi, M.D., Ph.D. FACS
ツイート